New guidebook: Understanding cancer and treating it holistically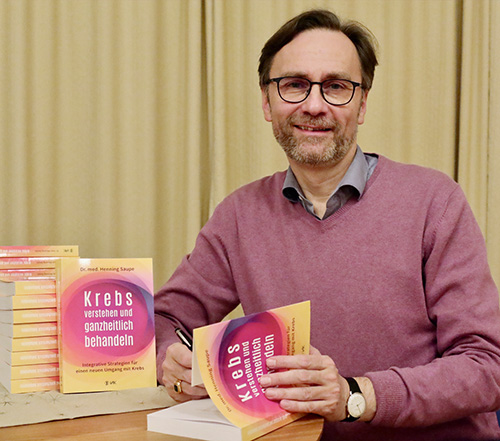 The first book by the medical director of Arcadia Praxisklinik Dr. med. Henning Saupe was published shortly before Christmas. The guidebook "Understanding cancer and treating it holistically" is now available in German bookstores.
In this book, Dr. med. Henning Saupe summarizes what he has learned and experienced over the past 30 years about the nature of cancer and in his work with people affected by cancer.
The English translation of the book will be published by ChelseaGreen in the US and UK in early 2022.
Dr. Henning Saupe: Understanding cancer and treating it holistically – Integrative strategies for a new way of dealing with cancer
Would you like to be informed about the English publication? Subscribe to our newsletter. We will send you a message.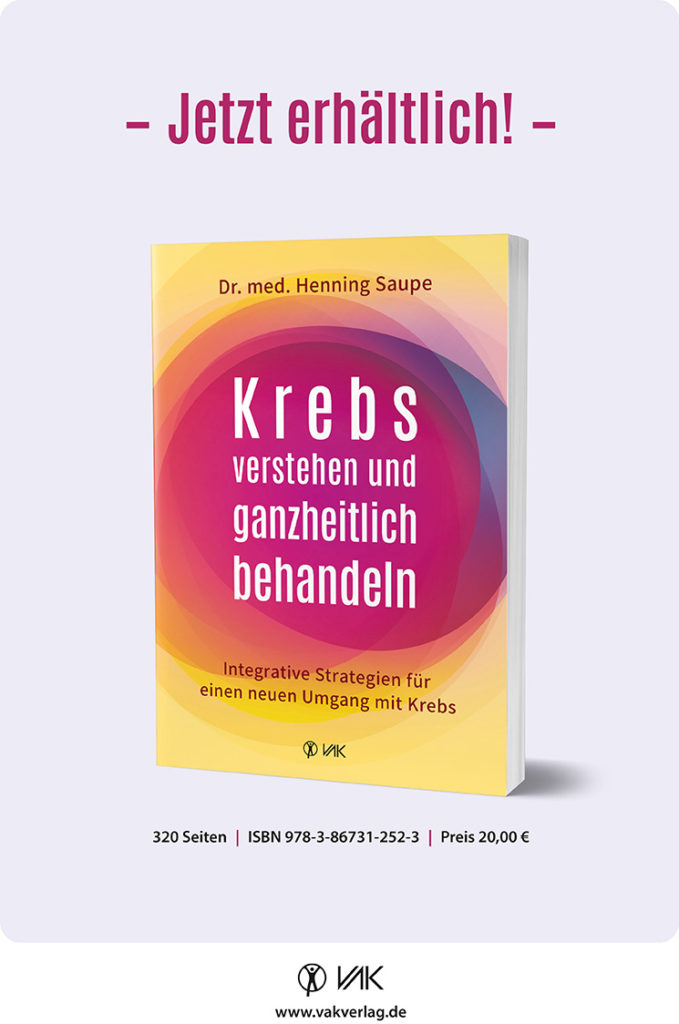 Cancer is on the rise, especially in Western industrialized nations
Statistically, every third person in Germany already develops cancer once in their lifetime, and forecasts predict a further increase in the number of cases in the coming years. It is therefore all the more important to counteract this development by understanding the mechanisms of cancer development and adopting suitable strategies for prevention and treatment. Henning Saupe, MD, explains the causes of cancer and identifies numerous factors that promote the development of the disease and that are often rooted in an unhealthy lifestyle.
On the basis of the theory of the 12 vital fields developed by him he presents effective measures, which everyone can convert, so that it does not come in the best case only to a disease. But even if a cancer diagnosis is already in the room, there are many ways to heal the disease or at least bring it under control.
Cancer treatment with a holistic complementary medicine approach
Based on a holistic complementary medicine approach, Dr. Saupe shows which treatment methods are still available in addition to the usual conventional medical practices and with which means the quality of life can be maintained despite the disease. The measures presented range from a healthy diet to stress reduction and strategies for strengthening the immune system to special treatment methods that can inhibit the growth of the tumor and, at best, destroy it completely.
Based on scientific findings and numerous examples from the author's practical experience, those affected learn that the diagnosis of cancer and a good life are not mutually exclusive and how to find the right doctors and therapists in order to develop an individually tailored therapy concept with them.
Arcadia Health News
The Arcadia Health News regularly informs about news from the alternative cancer therapy and from our practice clinic. Subscribe and follow the Arcadia "way to health".