Cancer diagnosis and diagnostic procedures
Before we can provide individual medical consultation to cancer patients at Arcadia Praxisklinik, we require all previous documents, results and reports on the course of the disease. Cancer therapy, but also the treatment of chronic diseases such as Lyme disease, always begins at Arcadia Praxisklinik with a detailed conversation and extensive diagnostics. For this purpose, we use the most modern procedures, which are briefly presented here.
The diagnostic procedures in the Arcadia Praxisklinik
Specific blood tests
Our medical tests are based on the results of a detailed blood test. These include:
Large blood count

Liver, kidney, thyroid gland values

Blood Coagulation

Electrolytes (salts)

Vitamin D3, selenium, iron

Inflammation values

Specific tumor markers (if possible)
Our advanced diagnostics also examines:
Heavy metals in the blood

Mineral Whole Blood Analysis

for special questions the determination of female sex hormones in urine

Living blood analysis under the dark-field microscope
Microbiome analysis – examination of the intestinal flora
Our initial diagnostics includes a detailed examination of your intestinal flora. We use the intestinal microbiome test based on a gene analysis, the most comprehensive test available in the field of stool analysis.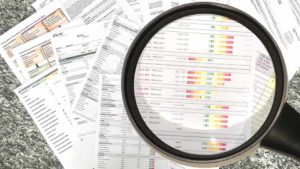 Ultrasound examination of the internal organs
An internal examination of the internal organs with sonography (ultrasound) is also part of our initial diagnostics, with which we also monitor the course of your illness or treatment.
The ultrasound examination of the internal organs includes liver, kidneys, spleen, blood vessels, thyroid gland, prostate, lymph nodes, pancreas, gallbladder, urinary bladder, etc.
Infrared thermography for monitoring breast health
Infrared thermography is an extremely gentle and safe diagnostic procedure for the examination of the female breast. In recent years it has experienced an enormous boost due to considerable technological progress. Cameras take pictures with over 100,000 measuring points, which can take very precise thermal images of the entire body surface. This thermography can now be used to visualize diseases or functional disorders in oncology, orthopedics, internal medicine, angiology and dentistry. We use infrared thermography in the Arcadia Praxisklinik for breast health screening through to breast cancer control or aftercare.
Thermography has proven to be an important complement to ultrasound and MRI examinations and can also be used as an alternative to X-ray mammography. It does not cause any stress to the body and can be repeated at any time, as it has no side effects. Women of all ages, including pregnant and breastfeeding mothers, as well as healthy individuals can benefit from this safe diagnostic method.
Directly after the procedure, the results of the breast examination can be discussed, and a printout of the examination results is provided for the family doctor or therapist.
Heart rate variability test (also called HRV stress test)
Health, well-being and fitness are significantly influenced by the condition of the so-called autonomous nervous system. The latter includes the sympathetic system (our "internal accelerator") and the parasympathetic system (our "internal brake"). The quality of our parasympathetic system is extremely important for our health, as our body's ability to regenerate depends heavily on it. If our parasympathetic system, i.e. our internal brake, cannot regulate our body, chronic diseases such as high blood pressure, heart disease, diabetes and cancer can develop. Our mental abilities also suffer: We become very sensitive to external stress, are unbalanced, irritable or become depressed.
Therefore we check the fitness of the autonomic nervous system with an HRV scan. This test is performed with a special ECG connected to a computer. It only takes a few minutes and the results can be calculated immediately and discussed with our patients. We can say how flexibly the vegetative nervous system reacts to everyday stress and how well the "internal brake" works.
What effects can a poorly functioning "inner brake" have?
A poorly functioning "inner brake" is often the cause of chronic diseases. External influences such as excessive stress and neglect of the autonomic control system can lead to premature aging. Internal stress can be effectively reduced with simple exercises.
Bio-impedance analysis or also BIA measurement
With the Bioelectrical Impedance Analysis BIA we can quickly obtain a meaningful picture of the composition of the human body. Over the last 30 years, this examination has become the standard for body weight control in nutritional medicine.
In order to assess the state of health of the body, it is important to know the distribution of extra- and intracellular water, fat and muscle mass. Shifts in the relationships between them allow important statements about the nutritional status.
The BIA analysis is very helpful in assessing the nutritional and functional state of the body as well as in observing the course of disease during treatment.
Live blood analysis with dark field microscopy
Darkfield microscopy is performed at the beginning and end of each stay.
We use dark field microscopy to test the overall vitality. It is a special variant of light microscopy that allows us to view blood and all its components without prior staining or preservation. With darkfield microscopy, human blood can be examined "alive". This is extremely valuable because it allows a direct insight into the life processes of our body.
Normally, red blood cells float freely in serum because they have a strong negative charge and therefore repel each other.
In chronic diseases, inflammations and cancer, the red blood cells like to clump together and form the so-called coin roll or Rolleaux phenomenon. This is an indicator of reduced vitality; the negative charge in the cell membranes is weakened. This phenomenon usually disappears after successful treatment.
The size and mobility of the white blood cells is of great importance as it shows us the vitality of our immune system. It can be observed in an impressive way with dark field microscopy. The image from the microscope is displayed in real time on a large screen so that it can be discussed with the patient.
In addition, statements can be made about protein precipitation in the blood, e.g. as an indication of inflammatory processes, acidic crystal deposits or other metabolic end products (so-called "waste products"). Darkfield microscopy is a good complement to the numerous laboratory tests we perform, as it shows the "overall vitality" at a glance.
Why diagnostics is so important to us
Our advanced diagnostic procedures at Arcadia Praxisklinik allow us a "second look" at the cancer, its course and the physical condition of the patient. This often enables us to obtain detailed information, thus significantly improving the treatment results and the patient's well-being.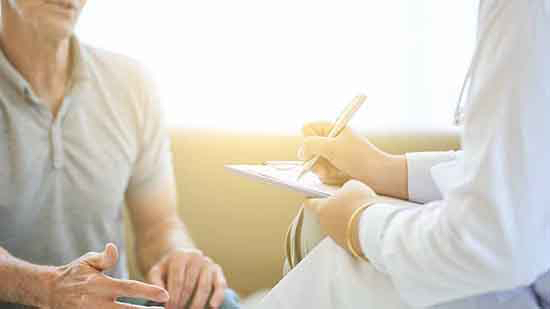 A basis for a second medical opinion
With the results of the additional examinations, we allow ourselves a second opinion. This can confirm the existing diagnosis and provide a therapy recommendation, but also a new approach.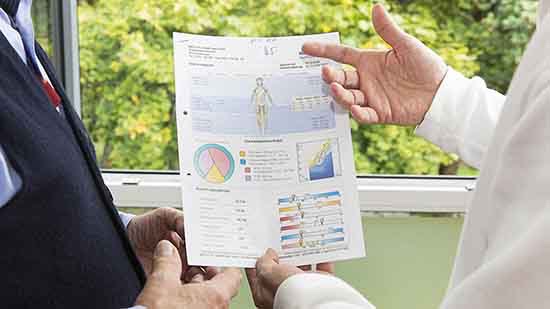 The basis for an individual therapy
The results of the diagnostic procedures are the basis for the individual, personal therapy plan. All treatments are coordinated accordingly, progress can be regularly checked and optimized with the procedures.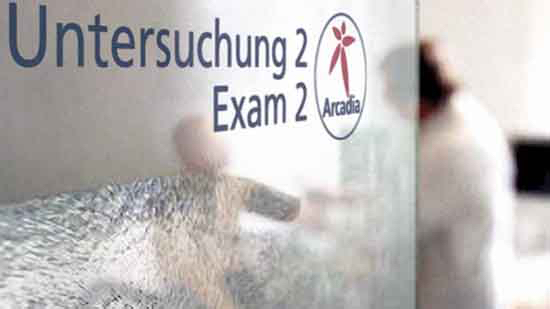 Putting health to the test
The procedures are also ideal for cancer prevention, for regular health checks. This is not only useful as a preventive measure, but also provides security after surviving cancer.
Put your health to the test now
Would you like to have a second opinion on your cancer diagnosis or health condition? Please reserve an appointment using our contact form. We will get back to you immediately.
Telephone times for guest service:

Telephone times for guest service:
Monday, Tuesday, and Thursday
8:30 am – 12:30 pm and 2:00 pm – 4:00 pm (CEST)
Wednesday and Friday 8:30 am – 12:30 pm (CEST)