Reading tip: Chris Wark writes about his "way to health" in "Chris beats cancer".
Back in February 2019, Dr. Saupe had the opportunity to meet Chris Wark at the Annie Appleseed Conference in West Palm Beach, USA. The US-American Chris Wark had radically changed his lifestyle after his colon cancer disease. Chris Wark writes about his experiences regularly in his blog "Chris beat cancer" and talks to experts in the field of integrative treatment. He was so enthusiastic about Dr. Saupe and the "Arcadia way to health" that he asked him directly for an interview.
Interview with Chris Wark and Dr. Henning Saupe
Chris Wark: Cancer has radically changed my life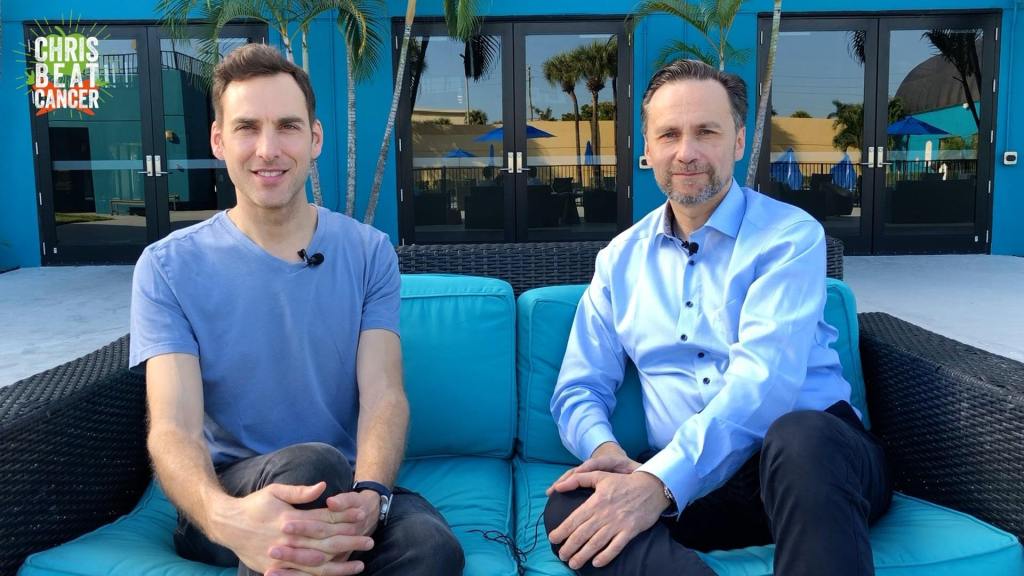 At just 26 years old, Chris Wark was diagnosed with stage III colon cancer. After surgery, he decided not to start traditional chemotherapy. Instead, he radically changed his diet and lifestyle and began to support his body in the healing process. Chris Wark is now an author, speaker and health coach with his own YouTube channel, present on radio and television and was featured in the award-winning documentary "The C Word".
Book recommendation: "Chris beat cancer"
The 42-year-old inspires countless people who want to get healthy again through nutrition and lifestyle. Following his best-selling American book "Chris beat cancer" (2018) published by Hay House, "Beat cancer daily" was published in the fall of 2020. Both books are available internationally in bookstores.
His cookbook on healthy eating is scheduled for release in late 2021.
Arcadia Health News
The Arcadia Health News regularly informs about news from the alternative cancer therapy and from our practice clinic. Subscribe and follow the Arcadia "way to health".